January 14th, 2016
Brief Introduction about Syrian Crisis – January 15th, 2016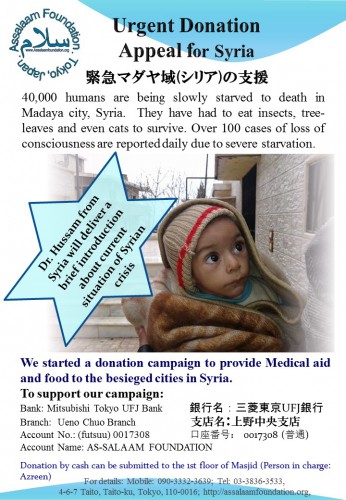 In accordance to support our Save Madaya Campaign 2016, we will have a brief talk about situation in Syria during Friday prayer gathering time tomorrow (15th January). The talk will be delivered by Dr. Hussam from Syria.
We are looking forward to seeing you.
Kindly request to all brothers and sisters to spread the information about the donation collection.
All contributions made in this regard will provide a great benefit to the innocent wounded civilians in Syria.
If you would like to make a contribution through Assalaam Foundation, we receive donation via bank transfer and cash.
Donation by cash can be submitted to the 1st floor of As-Salaam Masjid. (Person in charge: Azreen)
To Support our Campaign:
Bank: Mitsubishi Tokyo UFJ Bank
Branch: Ueno Chuo Branch
Account No.: 0017308 (Futsu)
Account Name: AS-SALAAM FOUNDATION