August 19th, 2014
Save Aleppo Campaign 2014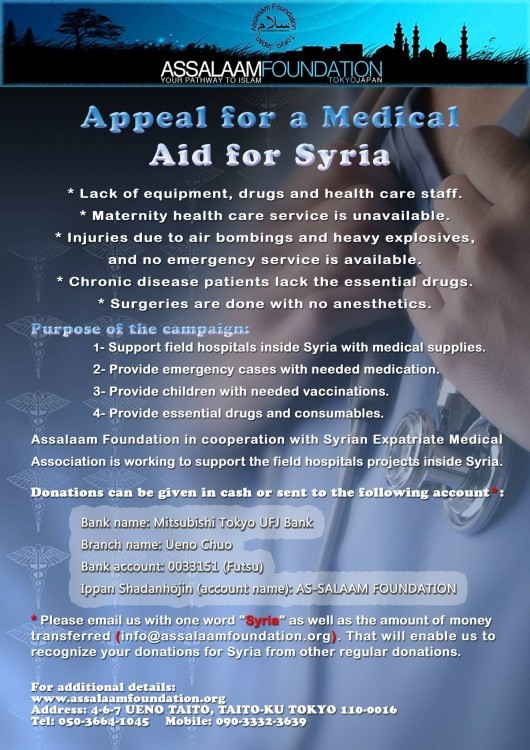 The deadly conflict in Syria has emerged as one of the worlds most urgent humanitarian crises, with more than 4 million persons displaced within Syria and another million refugees fleeing the violence into neighboring countries. A huge effort is needed to provide health care services to the people are injured by missiles, air bombings and random shelling in Syria.
During the past 6 months alone the regime escalated its offensive operations and air strikes in Aleppo city in north of Syria. Between 1st January and 28th March 2014, activists documented 2650 people were killed, all of them were civilians. From November 2013 till end of January 2014 the regime conducted 266 airstrikes killed 1380 civilians including 441 children by using more than 400 TNT barrel bombs. Over all there are more than 600.000 people fled their homes in Aleppo and 1400 houses were destroyed, including 900 houses were completely demolished.
The number of victims is very likely to increase as many injured people are at risk, due to lack of sufficient and efficient medical centers in Aleppo. Above that, the lack of necessary tools and equipment's to remove ruins and rescue people trapped under destroyed houses, mosques, bakeries, hospitals and other places, led to increase the casualties' total number.
In efforts for the "Save Aleppo" campaign, Assalaam Foundation has collected and transferred a sum of over 1,000,000 Yen to the Syrian Expatriate Medical Associations (SEMA) to support the field hospitals and medical centers inside Aleppo.
All contributions made in this regard will provide a great benefit to the innocent wounded civilians in Syria.