January 10th, 2016
Save Madaya Campaign 2016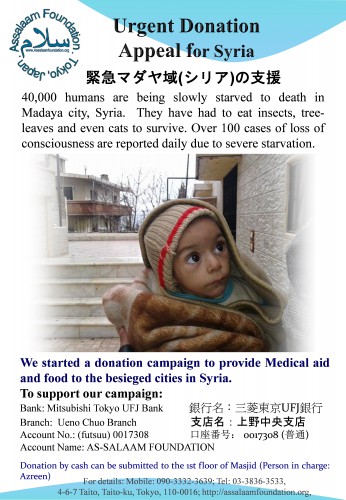 Madaya city in Damascus countryside has been under siege for over 5 months. 40,000 civilians are currently in the besieged city.
Madaya city has been suffering from an extreme shortage of food and medical supplies for nearly 4 months. Its residents have had to eat insects, tree-leaves and even cats to survive. Over 100 cases of loss of consciousness are reported daily due to severe starvation.
As-Salaam Foundation started a donation campaign to provide Medical Aid, foods, as well as clothes to the besieged city in Syria.
All contributions made in this regard will provide a great benefit to the innocent wounded civilians in Syria.
If you would like to make a contribution through Assalaam Foundation, we receive donation via bank transfer and cash.
Donation by cash can be submitted to the 1st floor of As-Salaam Masjid. (Person in charge: Azreen)
To Support our Campaign:
Bank: Mitsubishi Tokyo UFJ Bank
Branch: Ueno Chuo Branch
Account No.: 0017308 (Futsu)
Account Name: AS-SALAAM FOUNDATION