April 28th, 2013
AssalamFoundation introduces Food For the Homeless Campaign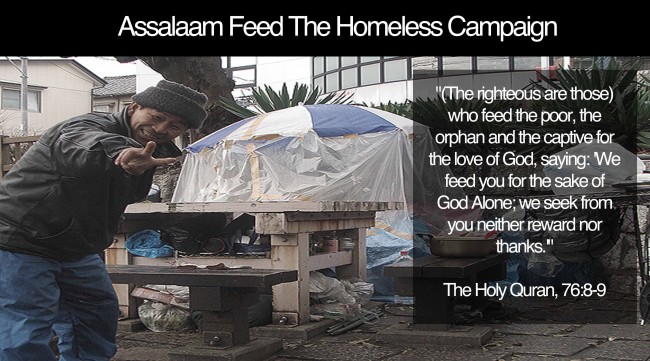 We know we can live in a world where everyone has a roof over their head, enough food to eat and access to clean drinking water. Unfortunately, despite some advances we're far from this vision. AssalaamFoundation is proud to introduce the Food For The Homeless Campaign, aimed to assist the growing homeless population in Japan. We know hunger and homelessness are increasing epidemics plaguing the Japanese population - striking Japanese of every age, ethnicity, and religion, hitting urban and rural communities alike.
The combination of the high cost of living, low-wage jobs, and high unemployment rates only exacerbate these problems and force countless Japanese to choose between food, housing, and other expenses. Studies show that money devoted to food is typically the first to be sacrificed. Families will often pay their fixed payments first, such as rent and utilities, rather than pay for food.
Unfortunately, these problems will only continue to grow if our society does not make it a national priority to address them in any systemic way. AssalaamFoundation is gearing up to put as much of a dent in this national issue as it can. You too can make a difference. To join us in this cause, simple contact us or visit us to find out how you can contribute.