March 18th, 2023
Dawah Program for Edogawa University students and their feedback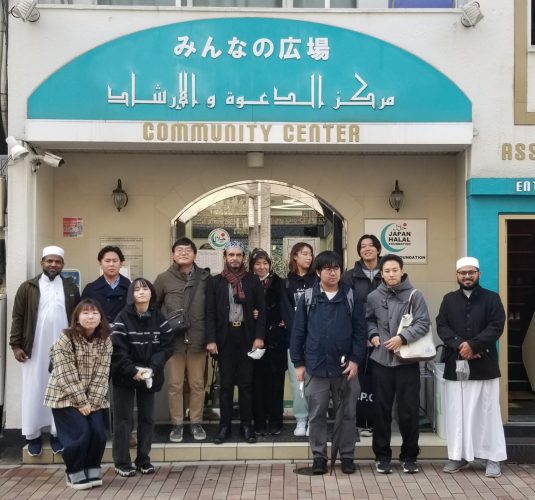 Dear Mohamed Nazeer, Members of As-Salaam Masjid
2023/1/15
Department of Contemporary Sociology, Faculty of Sociology, Edogawa University
Kawase Yutaka
ychuanlai@gmail.com
Thank you very much for your warm hospitality despite my sudden visit on December 18th last year.
It seems that the students were also greatly inspired by their first visit to the mosque, the explanation about Islam, and the state of worship. Thank you very much for your time and preparations of lovely snacks.
Here are some words of thanks from 7 students who joined this time.
Thank you for sharing your precious story. I have had opportunities to learn about Islam in school classes, but I have never had the opportunity to learn specific teachings for believing in Islam. If I hadn't been given time like this, I probably wouldn't have had the opportunity to learn more in my life. For this reason, it was a very valuable time for me to hear from Mr. Nazeer and other people at the mosque. I will keep what I have learned in my heart and try to do what I can call good deeds, even if it is a small thing at first. Once again, thank you very much for your valuable time.
Thank you for taking time out of your busy schedule to allow us to observe the mosque and other services the other day. Before the prayer, you talked about the teachings of Islam on the first floor and answered our questions, which helped us to understand the prayer a little better than what we had read in books. I could see that everyone was praying with concentration, even elementary school age children were praying earnestly, and I could feel that they were praying with concentration. The Sri Lankan sweets and tea we were served afterward were very tasty, and it was a valuable experience for me to be exposed to different cultures. Thank you very much for your warm and friendly teachings about Islam and other cultures.
Thank you for answering various questions. I think there were some questions that were difficult to answer, but I was able to broaden my knowledge thanks to the polite and easy-to-understand answers. I am extremely grateful.
Thank you very much for your precious words about the mosque. After listening to Mr. Nazeer's story, I think I was able to learn a little about the importance of following Islamic teachings. And I started to feel gratitude for my daily life, thank you. I was served with food and drinks which took me to be interested in Islam more and I would like to visit Sri Lanka again.
I had no idea about the teachings of Islam, so it was very informative for me to hear the detailed explanations about the teachings. I was especially impressed by the stories about heaven and Adam. The sweets and tea were delicious and warmed my body and soul. I was also very happy to hear that I could come back anytime. I would like to visit there again. Thank you very much for your warm welcome.
I didn't have many chances to come closer to Islamic culture, so I only vaguely knew about it, but you taught us in a way that was easy to understand and sympathetic to university students, and I really enjoyed it. Thank you for the tea and sweets.
Thank you very much for letting me embody this precious experience. The image of Islam changed, and I felt that I had to learn how to live as a believer who is forgiven by God by doing many good deeds. I would like to hear from you again if there is an opportunity.
Thank you very much for giving us an opportunity to experience and learn about Islam. It changed my image of Islam and made me feel that I have to learn from the way of the life of Muslims who ask God's forgiveness by doing many good things. I hope I will have another opportunity to visit again.